The porcelain collection in the Dresden Zwinger is one of the very large porcelain museums in the world. Exhibits from China, Japan and Saxony such as Meissen are on display.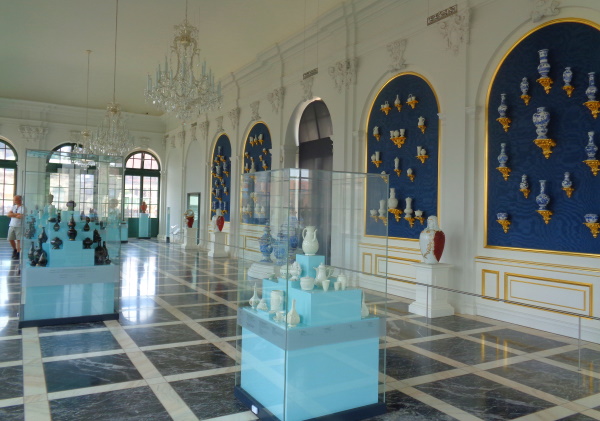 The Prince of Saxony and King of Poland August the Strong was a great fan and collector of porcelain. At the beginning of his reign at the end of the 17th century porcelain was only available in East Asia, in Europe this plastic was still unknown. August the Strong had research done. Johann Friedrich Böttger invented porcelain in Europe in 1708, but the quality was inferior to Asian porcelain for a long time. In China it had been produced for over 2000 years. Soon after Böttger's invention there were the first porcelain factories in Europe, including the famous company in Meissen.
---
Book a guided tour through the old town of Dresden on the Internet for only 8 Euros: >>> More information and booking
---
Combi-Ticket guided tour of the Old Town and guided tour of the Semper Opera House, also inexpensive on the Internet:  >>>  More Information and Booking
---
The porcelain museum in the Zwinger is divided into different areas. Most pieces are from the collection of August the Strong. In the first area there are many great exhibits from China and Japan, most of which are older than the first European porcelain.
Further back and one floor higher is porcelain from Europe. Especially the Meissen porcelain is exhibited a lot. Especially interesting are the exhibits from the early 18th century, when porcelain in Saxony began to be produced.
All in all we liked the Dresden porcelain collection in the Zwinger very much. We can only recommend the museum to others.
Opening hours 2020 Porzellanmuseum Dresden in the Zwinger: Daily 10 am to 6 pm, closed on Mondays (closing day)
Admission prices 2020 Dresden Porcelain Collection: Adults pay 6 Euros admission, children under 17 years are completely free. There are discounts, group tickets and so on. One ticket for all museums in the Zwinger is available for 12 Euro (Combi-Ticket Zwinger Ticket). This is valid in: Kunstmuseum Alte Meister, Mathematical-Physical Salon and in the Porcelain Collection. All 3 museums are worth seeing in our opinion, so we recommend the entrance ticket Zwingerticket.
Video Porcelain Collection Dresden (Youtube, 5 min)