Dresden is a tourist city with many famous sights. With almost 5 million overnight stays, the city ranks 6th among the cities visited by tourists in Germany after Berlin, Munich, Hamburg, Frankfurt and Cologne. Visitors are mainly attracted by the old town of Dresden. Almost all of the very important sights of the large city on the Elbe in Saxony are almost directly adjacent to each other.

Dresden has about 550,000 inhabitants. It is the capital of the Free State of Saxony, but not the largest city. Leipzig currently has about 30,000 more inhabitants.
Dresden undoubtedly has one of the most beautiful old towns in Germany. The nickname Florence on the Elbe is rightfully attributed to Dresden. Many important buildings date from the baroque era. Others, however, also originate from other periods such as the Gothic or Renaissance.  The city on the Elbe was heavily destroyed during bomb attacks in the 2nd World War. Many of the historical buildings were then rebuilt true to the original. Some of them only decades later.
The most important sights in Dresden
The ruins of the Frauenkirche, perhaps the most famous sight in Dresden, were for a long time a monument against war. It was not until long after reunification, namely in 2005, that the Protestant Church in the centre of Dresden was rebuilt.
Besides the Frauenkirche, almost all tourists also visit the Semper Opera House, one of the most famous and beautiful operas in Europe. Especially the great interior of the opera house is world-famous. Many of the performances in the evening are sold out, during the day you can visit the Semper Opera House on a guided tour.
While the Semperoper is from the 19th century, the neighbouring Dresden Zwinger is more than 100 years older.  It is the most famous of the many baroque buildings in Dresden built during the reign of August the Strong. Today, the Dresden Zwinger houses several magnificent museums, which are among the tourist highlights of the city.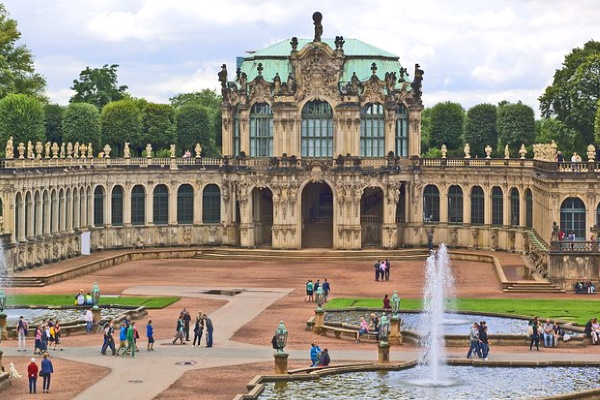 The Brühlsche Terrasse is also part of the programme for all visitors in Dresden. On the 500 meter long "Balcony of Europe" you have a wonderful view of the Elbe. The Brühl Terrace runs directly in the Old Town next to the other well-known sights, parallel to the banks of the Elbe.
Another magnificent building in the old town is the Dresden Castle, the residential palace from the early 18th century. Also the more than 100 meters long mural "Fürstenzug" in the middle of the old town should not be missed.
We recommend to book a guided tour of Dresden for every visit. There are offers for less than 10 Euro (90 minutes Highlights Dresden Old Town). Afterwards you can go out and discover the great sights of Dresden by yourself.
Book a guided tour through the old town of Dresden on the Internet for only 8 Euros: >>> More information and booking
   Germany Guide   Berlin Guide     Munich Guide    Vienna Guide   Prague Guide