Inhabitants Dresden
Dresden had a population of around 557,000 in 2019. This puts the capital of Saxony in 12th place on the list of cities in Germany. The number of inhabitants has risen in recent years, unlike many cities in eastern Germany. At reunification in 1990, Dresden had only 490,000 inhabitants.
Leipzig has about 587,000 inhabitants, 30,000 more than Dresden. This makes Dresden the second largest city in the federal state of Saxony. The third largest city is Chemnitz with about 246,000 inhabitants.
Dresden was relatively larger in history than it is today. Around 1850 Dresden was the third largest city in Germany (after Berlin and Hamburg). Before World War II, Dresden was the sixth largest city in Germany with 630,000 inhabitants.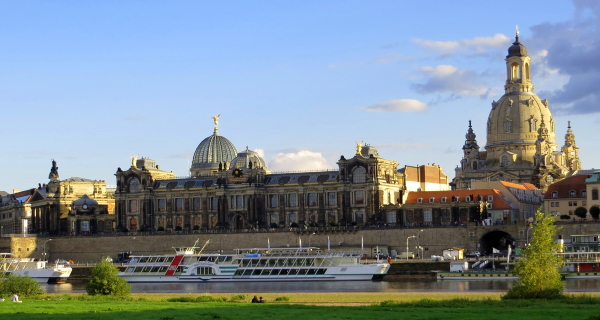 Area Dresden
Dresden has an area of 328 square kilometres. Only Berlin, Hamburg and Cologne are larger. Dresden is larger than Munich in terms of area. With 1690 inhabitants per km², Dresden is sparsely populated for a large city.
The most popular tour in Dresden: Guided tour of the
Semper Opera House (45 min)
The Semper Opera House is the most famous and most beautiful opera house in Germany. Especially the interior of the opera is beautiful. No other building in Dresden has more guided tours booked through it. You should definitely book online in advance:
Religion Dresden
Less than 20 percent of the people of Dresden belong to one of the two big churches in Germany. A good 15% of the inhabitants are Protestant, just over 4% Catholic. 80% are without a denomination, a very high figure.
Bombing of Dresden
The USA and Great Britain bombed Dresden several times during World War II in 1944 and 1945. The well-known major air raid on Dresden was from 13 February to 15 February 1945, a few months before the end of the war. During these raids, large parts of the city, including the old town, were destroyed. About 25,000 people died in just a few days. It is the best-known and most controversial Allied attack on a German city.
Dresden tramway
There is no underground railway in Dresden. Public transport consists mainly of trams, suburban trains and buses. The tram is very important.
The network has a total length of 134 km, there are 13 tram lines numbered from 1 to 13. Most lines also run at night. There are 359 tram stops in Dresden (in 2020).
In this link you can buy Colosseum Rome Tickets.
Dresden S-Bahn
The S-Bahn has three lines that travel far out of the city. The route network is 128 kilometres long, almost as long as the tram network. There are 48 stations in the overall network of the Dresden S-Bahn.