The Panometer is a former gas container in the shape of a huge, round building. For some years now, there have been exhibitions inside the Panometer in the form of gigantic 360 degree pictures. At present, the city of Dresden can be seen in a time travel back to the year 1945, shortly after the bombing and extensive destruction of the city in mid-February 1945.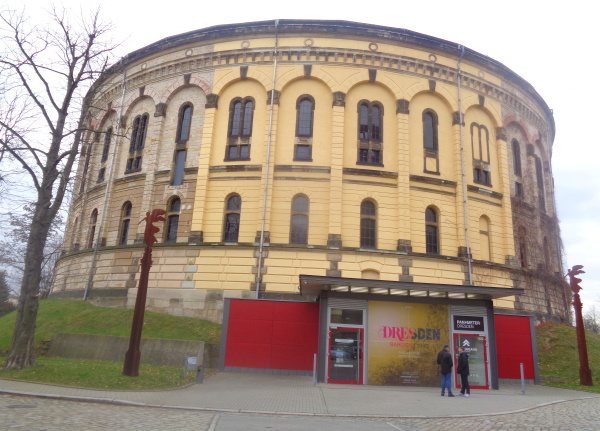 The gigantic picture (3000 square meters) on the inside of the dome inside the former gas tower Panometer is incredibly detailed. Special light effects such as darkness and flashes of the bombs make the image even more realistic. You can see the destroyed city. Many buildings like the Frauenkirche and the town hall are immediately recognizable.
The work was designed by the very famous artist Yadegar Asisi. In the middle of the round building there is a visitor tower, which is 15 meters high. You can go up this tower as a visitor and see the destroyed city of Dresden from a different perspective.
Around the actual panometer there is a small exhibition in other rooms on the subject of World War II and wars in general. We liked the gigantic picture inside the Panometer Dresden very much.
Panometer is an artificial word, composed of panorama and gasometer. A gasometer is a large gas container, the original function of the building.

Prices Panometer Dresden 2022
Admission to the exhibition about Dresden 1945 costs 11.50 for adults. Tickets in advance are available on this website. Children pay 6 Euro. Status at the beginning of 2020.
Opening hours Panometer Dresden 2022
During the week (Monday to Friday) 10 am to 5 pm, weekends and holidays one hour longer (10 am to 6 pm)
Youtube movie