The Bastei is a very famous rock formation in Saxon Switzerland about 25 km east of Dresden. It is one of the very big sights in Saxony. On many days, many thousands of people visit the natural attraction Bastei via the Bastei Bridge, which was built about 170 years ago. You can walk up from the village of Rathen or travel from the top by car or bus.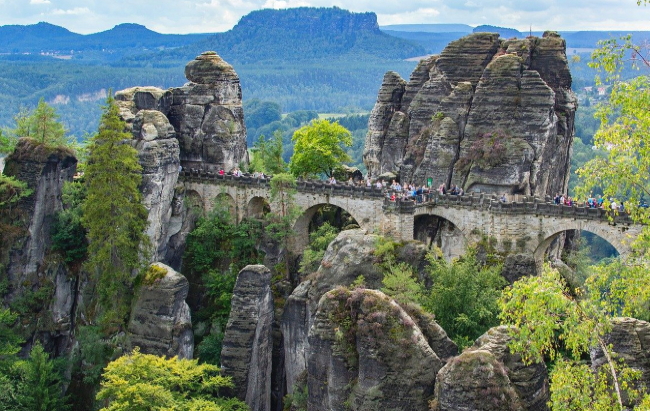 The Bastei Bridge is a man-made bridge as part of a hiking trail over the famous rocks of the Bastei. For many, walking across the bridge is the highlight of a holiday in Saxon Switzerland.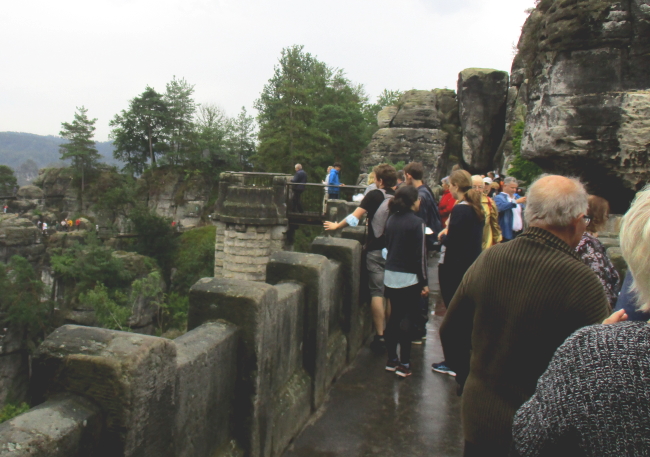 It is quite crowded on the bridge on summer days, especially at weekends. Several hundred people are on the narrow footbridge at the same time. They admire the large rocks of the Bastei and its unusual shape. But you also have a wonderful view of the Elbe valley from up here in some places, about 200 metres down.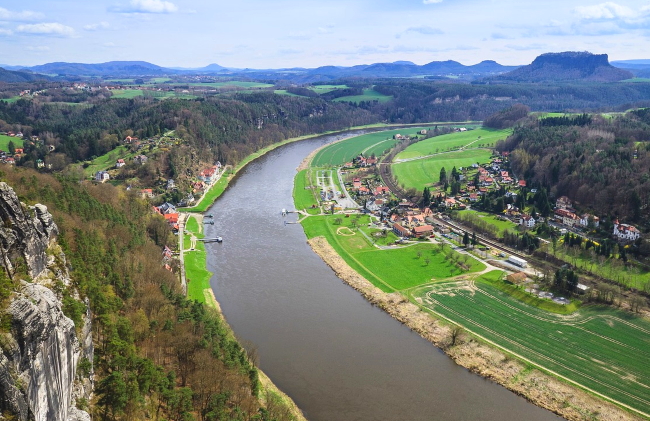 The way to the Bastei Bridge
One option is to take the S-Bahn or drive to Rathen, a small town on the Elbe. There is no bridge here, but there is a ferry, across the Elbe (1.30 euros for pedestrians single 2022). At the back of Rathen, a footpath goes steeply up to the Bastei. If you are fit, you can climb the many hundreds of steps (see picture below) in about 30 minutes. The path is well maintained, but sometimes a bit slippery, especially downhill.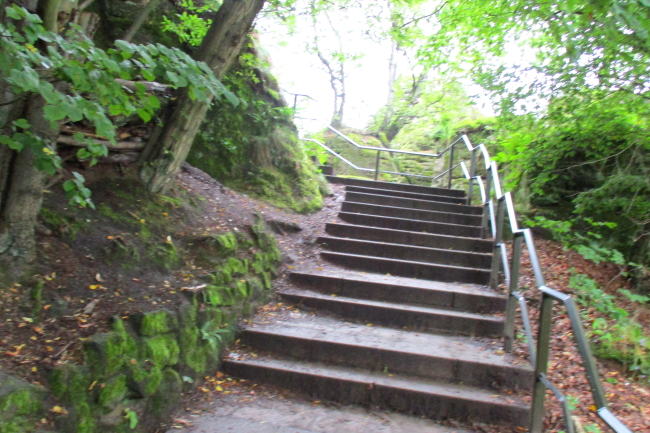 The other way to get to the Bastei Bridge and Bastei is from above. A few kilometres east of the town of Lohmen is a large car park (P+R Bastei). From the car park, however, it is about 3 km on foot to the Bastei. However, there is a shuttle bus to the Bastei several times an hour in summer. Some buses from Pirna also go directly to the Bastei.
The Bastei bus stop (shuttle and bus from Pirna) is next to the large hotel Berghotel Bastei. There is not only a hotel here, but also restaurants, bratwurst stands etc. for the many tourists and hikers. It is only a few hundred metres from the Bastei bus stop to the high point on the Bastei Bridge (easy, flat path). On the way, you pass a great vantage point. You can see the rocks of the Bastei and the Elbe valley very well here (great photos possible). The path after the bridge goes down to Rathen (about 30 minutes with many steps, about 200 metres difference in altitude).
The Bastei Bridge and the paths were built around 1850, and since then the Bastei and the bridge have been a landmark of Saxon Switzerland. Those who can should avoid weekends with fine weather. The bridge is then very crowded with visitors at peak times.