A very popular destination in Dresden for tourists is Pillnitz Palace on the Elbe. It is about 12 km outside the city centre of Dresden and can be reached by ferries upstream on the Elbe from the old town of Dresden. Excursion boats leave several times a day.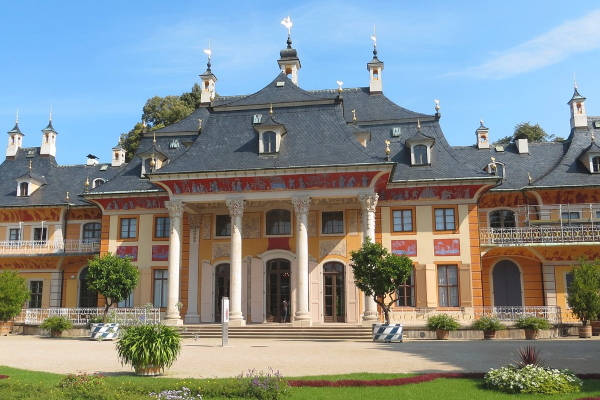 Pillnitz Palace is a beautiful palace. The main style is baroque, but what makes it special is the chinoise palace complex, the most important in Europe. Chinoise is a fashion in the 18th century, the so-called China fashion. Buildings and gardens in Chinese style with Asian paintings, architecture, etc.
Pillnitz Palace was built in the 18th century, completed in 1791. It was built under Augustus the Strong as a summer palace. Weddings and celebrations and the like used to take place here.
Excursion boats to Pillnitz: More information and booking
Today almost half a million visitors come to Pillnitz Palace every year. Very many come by the well-developed shipping service on the Elbe from Dresden. Several large excursion boats sail daily from Dresden to the castle.
The interior of Pillnitz Palace is also worth seeing, the architecture, halls, paintings and the Chinese fashion style. Today it also houses the palace museum and a museum of arts and crafts.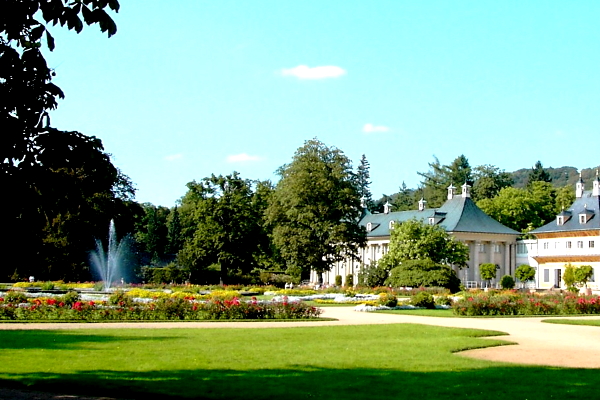 The beautiful palace park is magnificent, a pleasure garden with many wonderful flowers in spring and summer, fountains, high hedges and trees. The castle is surrounded by famous vineyards, orchards and woods. It is an excursion destination for spring and summer, in winter there is less going on here.
Boat trip to Pillnitz Palace
The large ships of the Dresden shipping company dock directly in front of the castle. The trip with the excursion boats from Dresden is varied, passing several other castles and famous bridges such as the Waldschlößchenbrücke and the world-famous Blaues Wunder bridge.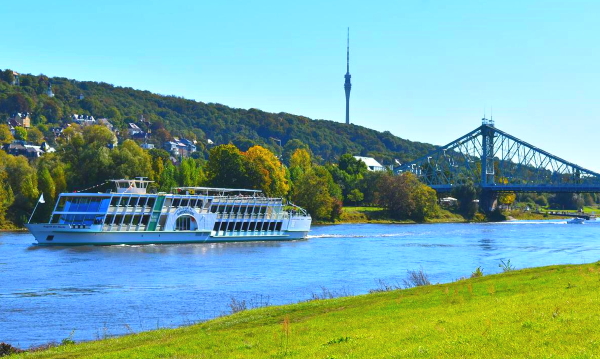 Departure is in Dresden directly in the city centre (Altstadt). You can return directly or get off the boat, visit Pillnitz Palace and gardens and return a few hours later on another boat.
Excursion boats to Pillnitz: More information and booking
You can also drive to Pillnitz by car, there are large car parks. However, we recommend the great trip on the excursion boats to Pillnitz.
Pillnitz has about 3,500 inhabitants, many of whom live from tourism. It used to be a separate municipality, but today Pillnitz is a district of Dresden.
The famous Augustus the Strong had Pillnitz Palace built as a gift for his mistress Countess Cosel.
Also worth seeing are the Chinese Pavilion in the palace park, outside and inside with great paintings, and the Palm House with great exotic plants like palms. In the park you can also see the famous gondola (Tritonengondel), with which the princes used to travel from Dresden to Pillnitz. The English Garden with its pavilion is also not to be missed.
For us, Pillnitz Palace is one of the most beautiful destinations for a day trip in Saxony.