Many sights in Leipzig are located in the rather small city centre. You don't need a vehicle here. Distances are short and most of the centre of Leipzig is pedestrianised.
There are also many sights in Leipzig outside the city centre. For these attractions there are sightseeing tours by bus: See our article
For the city centre there are organised tours. On a city tour with a guide you can see all the important sights. These include the famous St. Thomas Church, where Bach worked, and St. Nicholas Church, where the uprising in the GDR began in 1989. Also very interesting is the luxury shopping mile Mädlerpassage with the famous pub Auerbachs Keller. Goethe was a frequent guest here, and parts of Faust are set in the pub in Leipzig's inner city.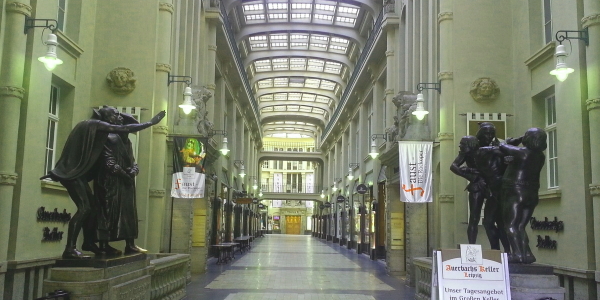 The Mädlerpassage with the two Faust monuments above Auerbachs Keller.
The famous university and buildings on Augustusplatz such as the modern Gewandhaus are also interesting. You should also see the Opera House, the Old Town Hall and the New Town Hall.
Suggestion 1: City walk Leipzig 90 minutes during the day
You can book a very good city tour on this link on the internet. The tour takes place every day of the year, lasts 90 minutes, and costs only 11 euros. The guides on this tour are very good and funny.
Suggestion 2: City tour Leipzig 90 minutes in the evening
The most popular city guide in Leipzig is the night watchman Bremme. He is a well-known person in the city. He guides tourists through his Leipzig almost every evening. The tours start at 8 pm. Absolutely recommendable, bookable on the internet at this link. Price: about 14 Euro, duration also 1.5 hours.
Suggestion 3: Combination of city tour and guided city walk
First you take the bus through Leipzig (90 min) and then go on a guided tour of the city centre (about 45 min). Then you have seen everything that is important in Leipzig. Like all 3 city tours presented here, this offer has also received very good reviews from participants. Price only 15 to 18 euros, duration together a good 2 hours: Booking on this link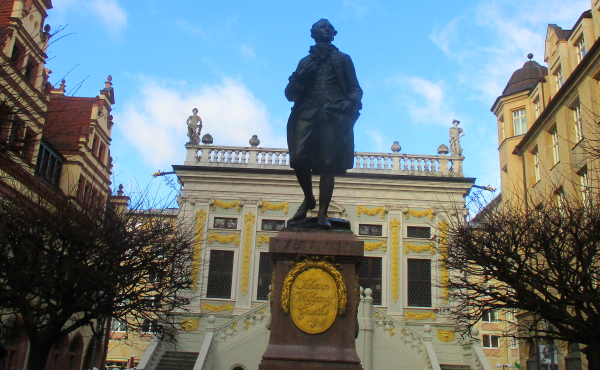 The Goethe Monument in Leipzig city centre
Suggestion 4: Scary Tour Leipzig
The spooky tour in the evening is about ghosts,, demons, witches, dead people, ghosts and other scary and spooky stories. In the meantime, the spooky tour could be the most booked city tour in Leipzig. The meeting point is directly in the city centre at Augustusplatz near the university. Duration 90 minutes from 8:30 pm. This spooky city tour has best ratings from participants:  >>> More information, dates and booking